The EVHA, and its members have contributed to the research which helps to
guide policy and standards throughout Europe, and especially in the European Union.
Members benefit by gaining an early understanding of research work, and by influencing how it is used
Ductwork Cleanliness Measurement Research
An early example of EVHA co-operation was the work done by Dr Birgit Müller and her department, the Hermann-Rietschel-Institute
for Heating and Air-Conditioning of Technical University of Berlin. This work was done as part of the Airless programme and was part-funded by the European Union.
This was important work and led to the adoption by the CEN of the 'Finnish method' of vacuum testing with a brushing action to actively disturb dusts off the surface. Previously the most widely known method was the American NADCA vacuum test which was less sensitive and critically, could not be used on circular ductwork
DOWNLOAD
Download a copy of the Airless work on Duct Cleanliness here
DOWNLOAD
Download an explainer here of how to use the Preferred Vacuum Test (or Finnish 'brush' test)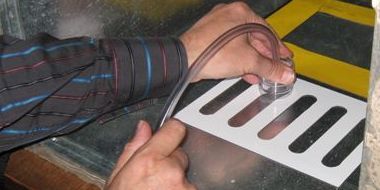 CONTACT
Interested in becoming a member or simply have questions about European Ventilation Hygiene Association?
We'd love to hear from you, so don't hesitate to contact us today.