EVHA Guides to Good Practice
The Guides to Good Practice are a valuable resource for duct cleaning specialists and for their customers and other stakeholders such as government, insurers, landlords and employees – to help them understand what needs doing, and how it should be done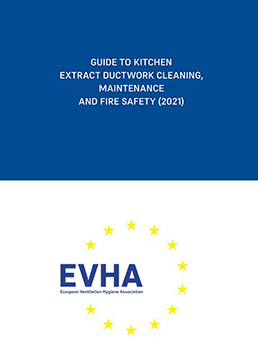 Cleaning & Risk Management of Grease Extract Systems
Guide to Kitchen Extract Ductwork Cleaning, Maintenance and Fire Safety (2021).
Kitchen extract systems are a critical part of any fire risk strategy.
An appropriately cleaned, maintained and monitored kitchen extract system provides the
following benefits:
Reduces the risk of grease extract system fires.
Reduces the risk of the spread of fires throughout kitchen exhaust systems.
Contributes to providing a safe and hygienic area, in which to prepare food.
Provides a safer and more comfortable environment, for kitchen staff.
Maintains the system operation in accordance with the original design.
We have estimated that losses across the EU amount to at least €447 million per year, let alone the risk to life and limb. National legislation, insurers, landlords and other stakeholders increasingly require that the risk associated with dirty kitchen extract systems is controlled.
A modern, professional and technical approach is required to replace the well-intentioned amateur of the past. Amongst other things, this Guide details measurement and reporting methods to bring greater clarity and cleaner, safer systems
Cleaning & Hygienic Management of Ventilation Systems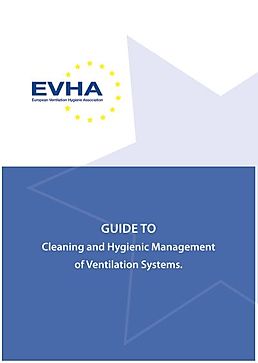 Ducted heating ventilation and air conditioning systems (HVAC) provide the 'lungs' of many modern buildings, carrying air to every occupant of the building.
Increasingly, Mechanical Ventilation with Heat Recovery (MVHR) systems use ductwork to recycle the heat in residential indoor air.
No filter is absolute and inevitably dirt accumulates within the ventilation ducts, which are usually 'out of sight and out of mind'. A dirty system cannot supply clean air and a fouled system provides mechanical, and ultimately fire, risks
The European-wide Workplace (Health, Safety and Welfare) Regulations therefore demand that "Mechanical ventilation systems (including air-conditioning systems) should be regularly and adequately cleaned. They should also be properly tested and maintained to ensure that they are kept clean and free from anything which may contaminate the air"
​
An appropriately maintained and monitored ventilation system provides the following benefits:
Reduces the risk of contamination of the air
Reduces the risk of adverse microbiogical growth
Contributes to the health, safety and wellbeing of occupants
Is part of a well maintained, productive work environment
Minimises the possibility of Sick Building Syndrome associated with poor ventilation
Improves mechanical efficiency and reduces energy consumption
 Increases the lifespan and aesthetics of building fabric
Subscribe to website updates and get free copies of the Guides to Good Practice
CONTACT
Interested in becoming a member or simply have questions about European Ventilation Hygiene Association?
We'd love to hear from you, so don't hesitate to contact us today.